PineSweeper Game
Try to cut down all of the trees for points without cutting down the home of a spotted owl. If you think you know where a spotted owl is living, right click on its home to preserve it with a flag. Feel free to download and give it a try! It is also available on the iOS and Android app stores.
License: Freeware Last udpated: 2010-06-13 17:10:38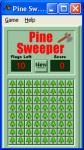 Download
The content for the Window's version of the "PineSweeper Game" has been made available below. It is our hope that it will be an encouragement to others learning to program other freely available games and applications.
| | | | | |
| --- | --- | --- | --- | --- |
| Filename | Vers. | File type | Size | Comments |
| Temporarily Removed | 1.0 | Win32 EXE | 93k | After downloading, double left click on the filename and select "Run". |
Note: This code has not been fully tested. Please do not run this unless you acknowledge that you assume all risks associated with its operation.